Fine Art Prints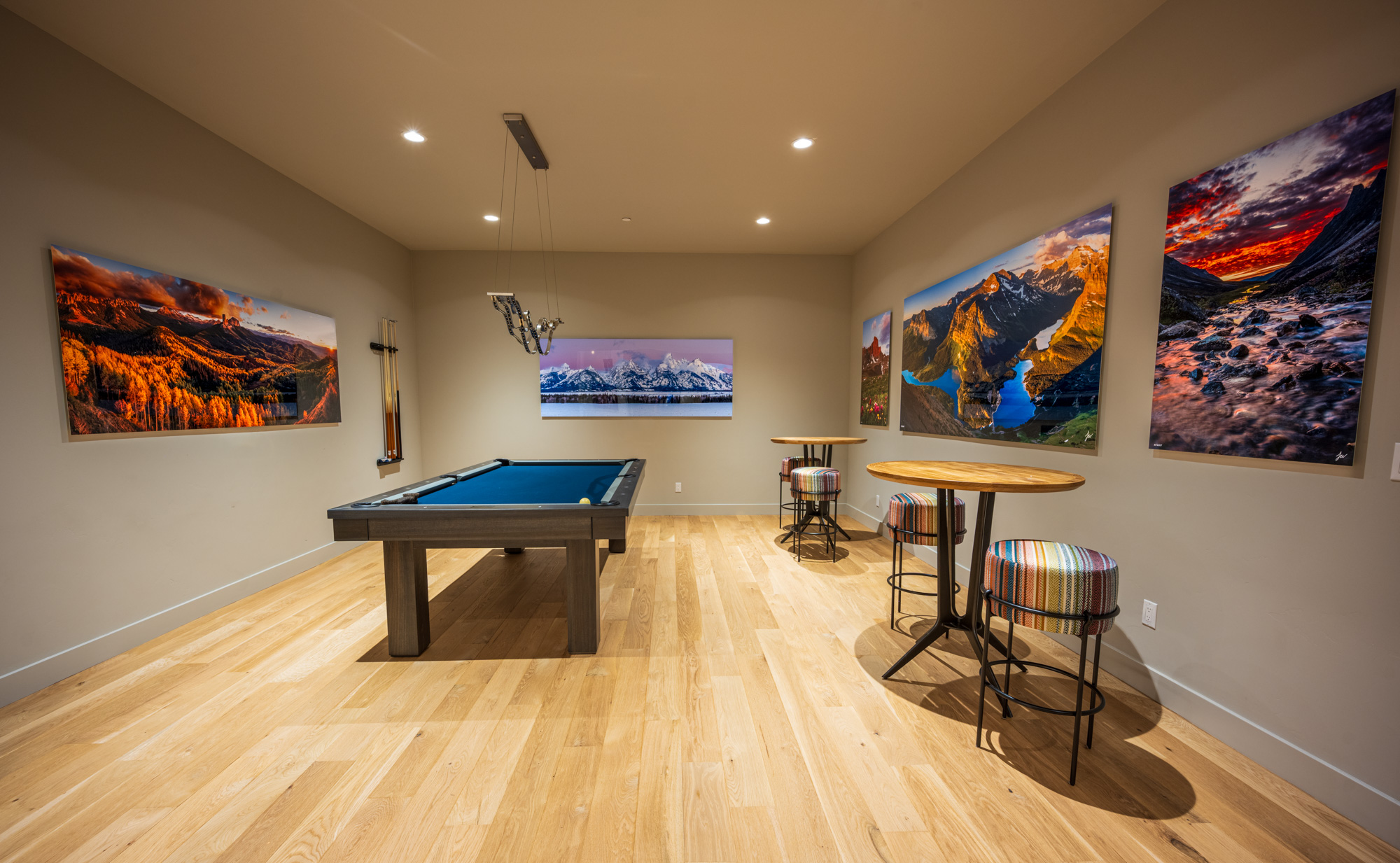 Not quite sure what print type to choose? This page will walk you through the different options and explain the entire printing, purchasing and production process. As always, please contact me directly if you have specific questions or would like to discuss further.
Prints are a physical representation of something I put my heart into; thus, a lot of work that has been done to ensure the print options showcase my work in the best manner possible. I only use the highest quality materials and production options available, which result in beautifully elegant artwork.
PRINT OPTIONS
I offer four different print types/mediums: museum-grade acrylic, metal, wood, and paper prints. Prints are available in a multitude of sizes ranging from 12" x 15" to 48" x 96". To fully appreciate the detail in these shots, it is best to see them BIG. Hence, panoramic images are quite popular as they do a great job of bringing you into a scene.

Aside from paper prints, the three other options all come ready to hang. Thus, you do not have to spend extra money to purchase a frame for these fine art prints. You can certainly frame your art if you'd like, but most simply hang the artwork as it arrives. Whether it's acrylic, metal or wood, each option sits or 'floats' off the wall, creating a 3D like appearance. No hanging system is visible and the 'floating effect' is very popular within the industry.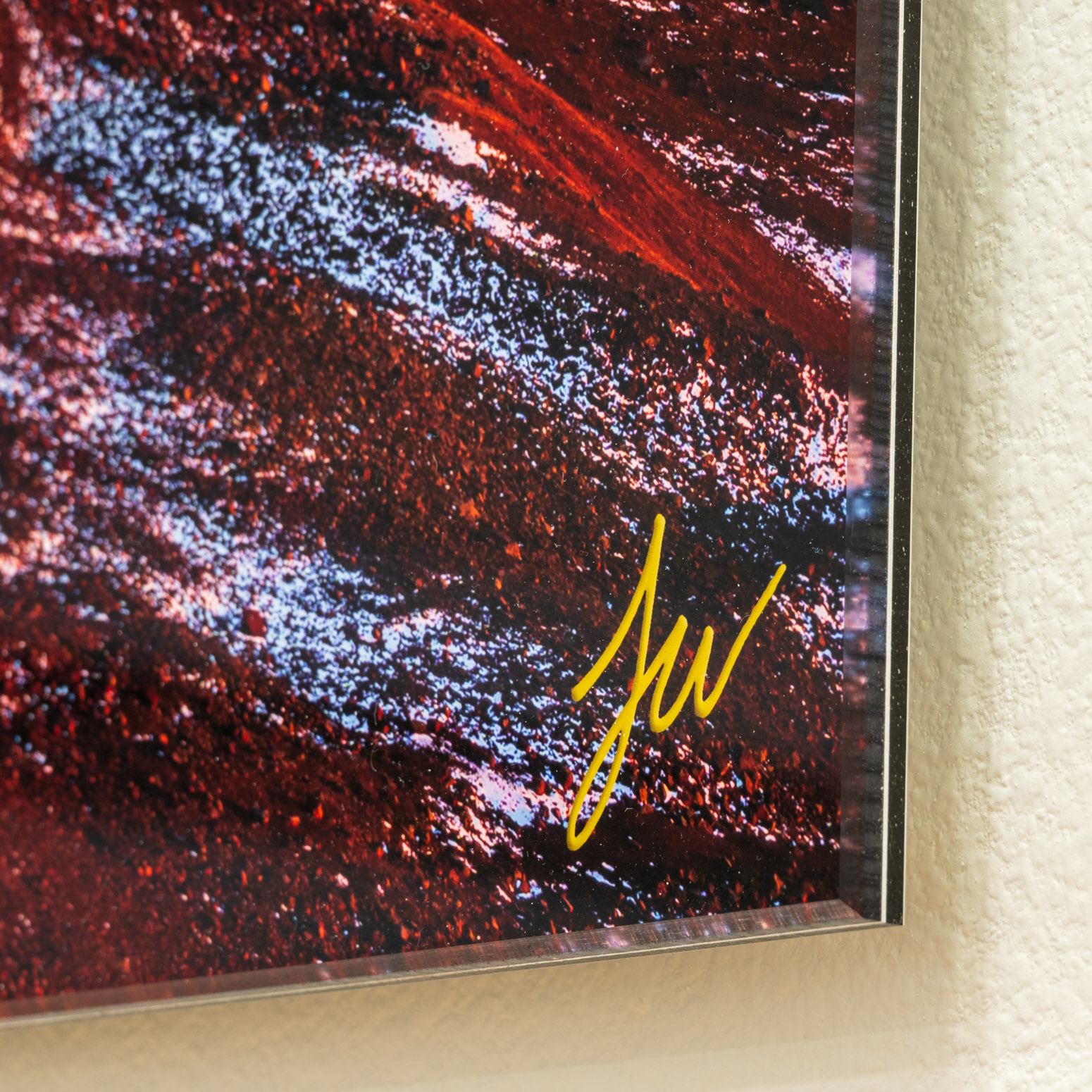 WOOD MOUNTED PRINTS (Arrives ready to hang)
This print option, a fine art paper print mounted on a wood layer, is one of my most popular. The final product gives a clean, modern look and is exceptionally crisp with high detail and contrast.
A benefit of this option is there is little glare and reflection, which even some of the highest end print types can exhibit. There is also UV protection as well as protection against fingerprints and dust. Additionally, the artwork is quite durable and can even be cleaned with a soft damp cloth.
The artwork is mounted on an acid-free 3/8" thick surface, finished with a black beveled edge, and given a 3/4" deep backing to create a floating effect. This creates a beautiful drop shadow and reveals a 3D like feel as it sits off the wall, and is one of my favorite attributes. A simple French cleat system is provided to securely mount and display the wood print. The product comes ready to hang and no additional frame is required.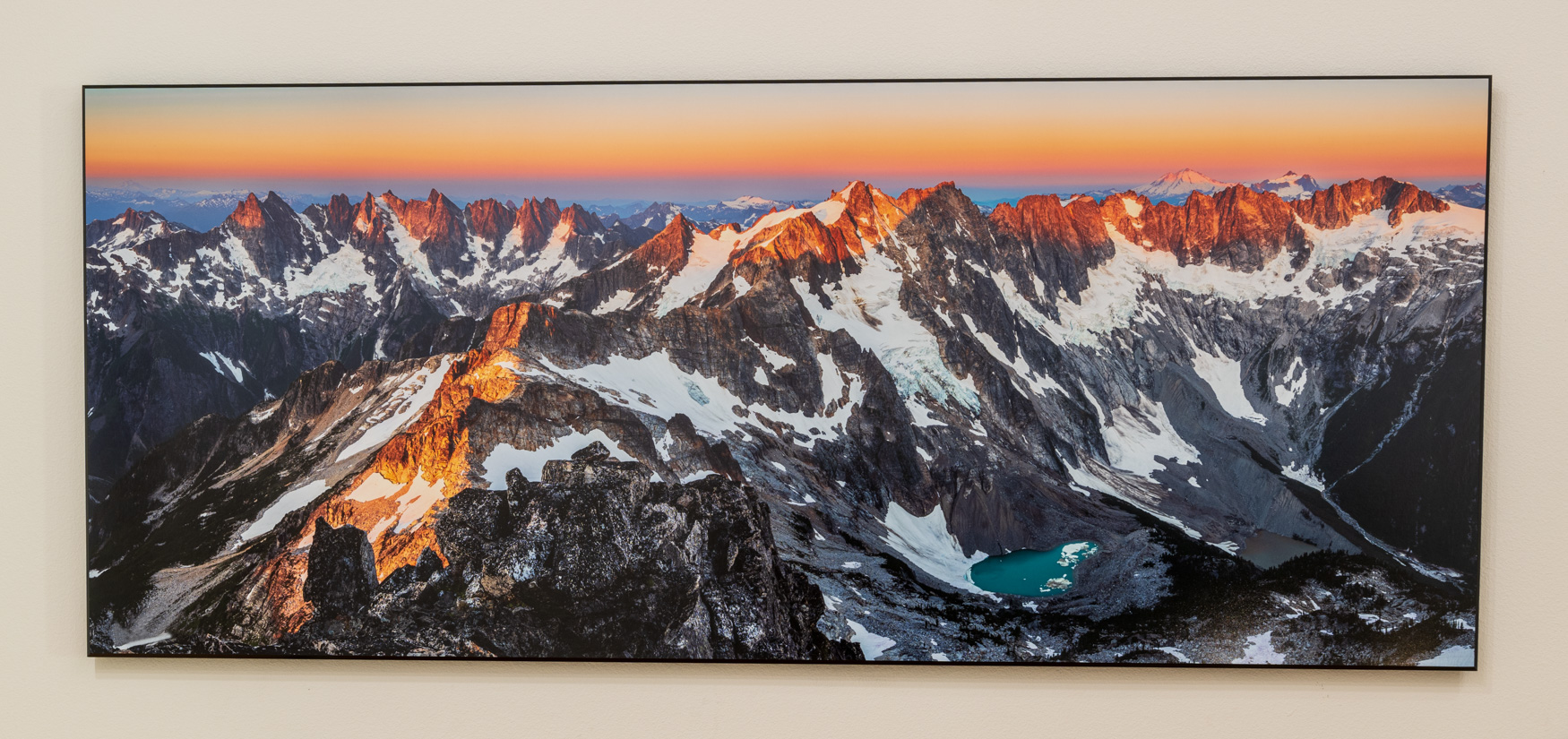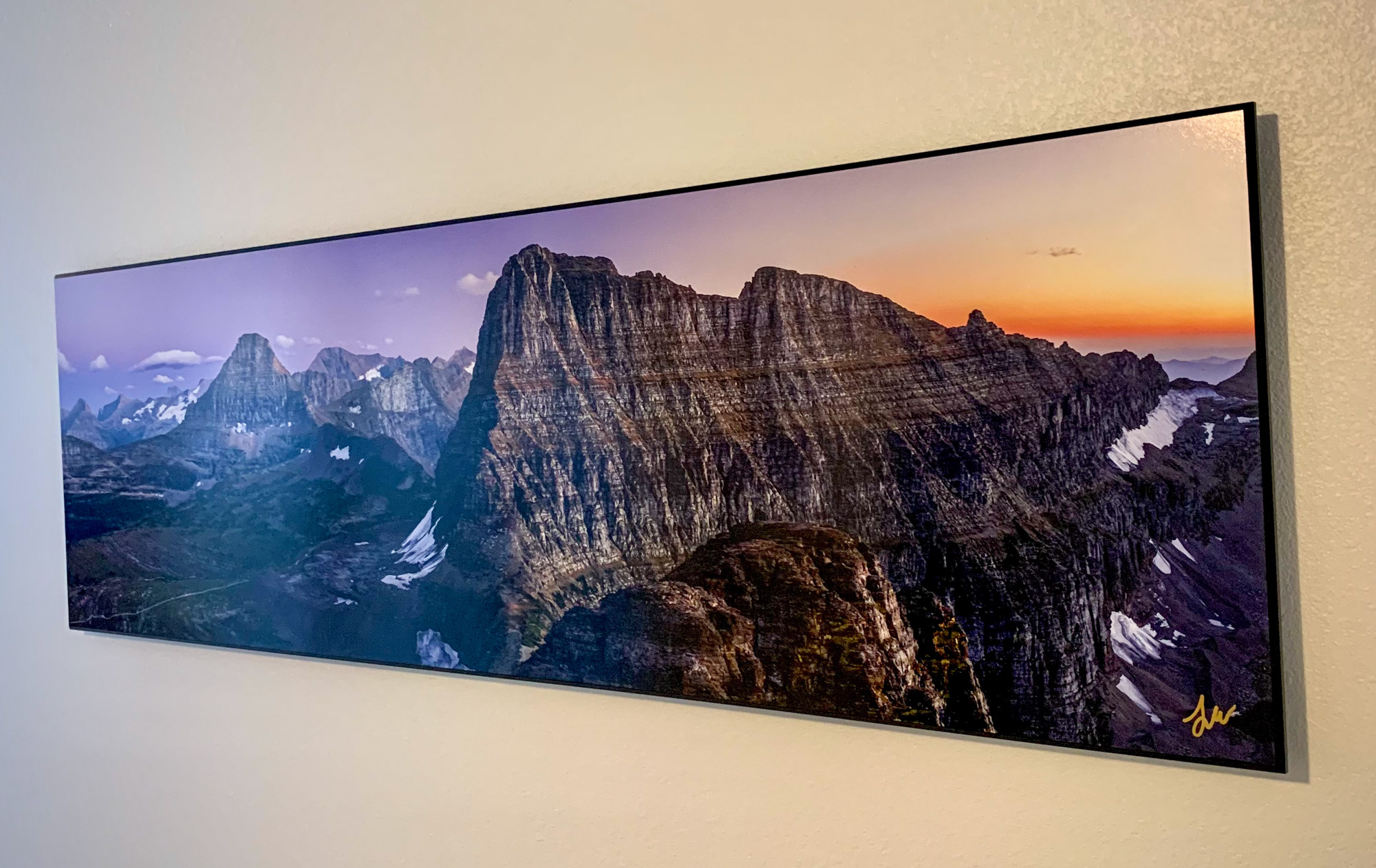 FINE ART GLOSSY METAL PRINTS (Arrives ready to hang)
My most popular print option! High gloss metal prints provide eye catching color and saturation, are sleek and lightweight, and are a great product for dramatic scenes that shine with color. They are printed on partially recycled aluminum and can be easily cleaned. They are waterproof and scratch resistant as well. Like my other printing options, metal prints come with a float mount, creating a beautiful drop shadow effect - almost 3D quality. You can purchase a frame if you'd like but it comes ready to hang and most will hang as is.
Unlike my other printing options which are paper mounted to either wood or museum-grade acrylic, these prints are created via dye sublimation, a process in which the image is printed to a transfer paper, then infused onto aluminum via a combination of pressure and heat. A high gloss infused print brings your image to life, due to its impressive pop and saturation. Note, increased pop and gloss can lead to a slight glare when viewed under strong light, but these are tradeoffs you often encounter with this style of printing. Typically, to have lower reflectivity you would have more muted colors and a loss in vibrance.
The combination of eye catching colors and surface durability make this unique printing process one of the most popular on the market.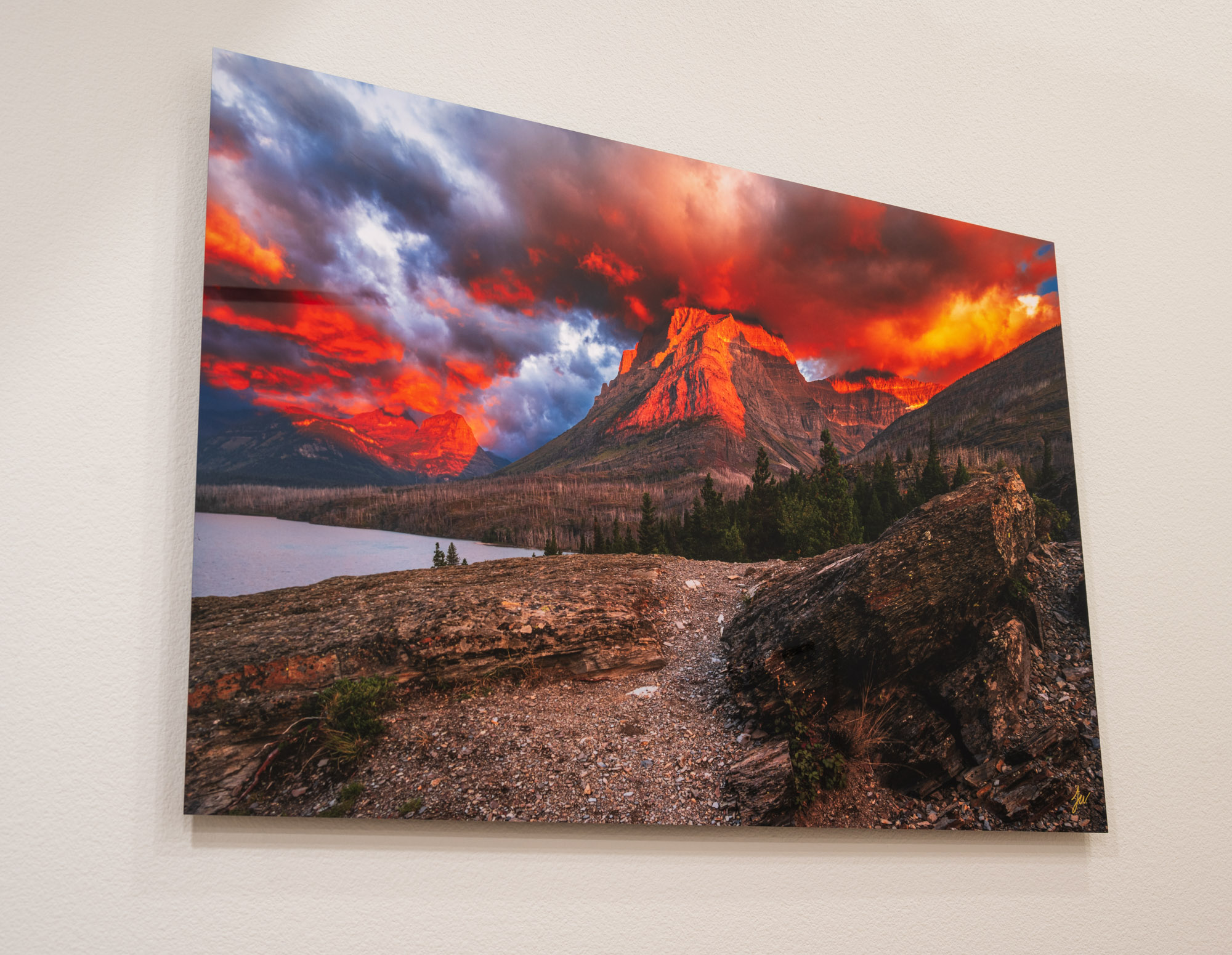 MUSEUM-GRADE ACRYLIC FINE ART PRINTS (Arrives ready to hang)
My highest end print product. Perfect for those looking to invest in museum quality fine art. This option features a fine art paper print face mounted on high grade acrylic.
Museum-grade acrylic prints bring extra detail, depth and iridescence for an impressive modern presentation. They are exceptionally clear while being durable and scratch resistant, a feature not all acrylics have. They also feature UV light protection.
A protective, acid-free black coating is applied to the back of the acrylic face-mounted print and completed with a black 1/2" backing with a concealed French cleat hanger to give it a beautiful floating effect when mounted on the wall. Overall depth of product is 13/16" from front face to wall. Like the other print options, the 3D like 'float' effect is one of my favorite features and is a favorite among customers.
Overall, acrylic prints are a resoundingly unique way to present work with superior clarity and durability.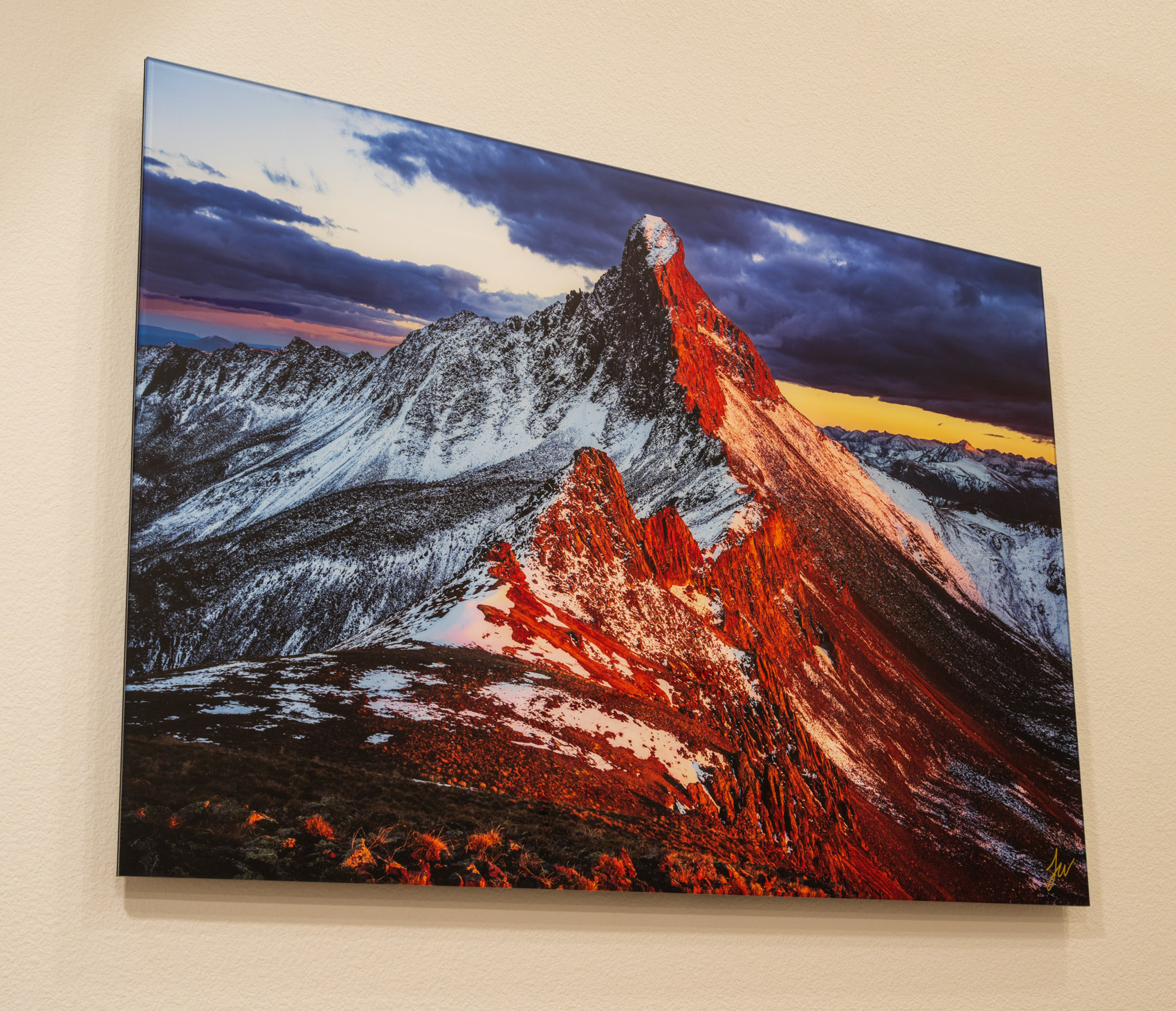 FINE ART PAPER PRINTS (Arrives as a loose print)
Your final option, a fine art giclée paper print, is the most budget friendly. Images are printed on smooth Hot Press fine art paper. The result is a perfect reproduction of detail and an array of vibrant colors. These are loose prints so you would need to mat and frame it (as opposed to the other options which arrive ready to hang). This gives you the benefit of working with your local frame shop to customize the print to your liking. Given these prints are not mounted, proper care is necessary to avoid any damage to the print. Framing can be costly, which is a benefit to choosing one of the three above print types, which arrive ready to hang (no frame required).



STORY PLAQUES
My love for mountaineering is at the core of my photography. Each image has a captivating story behind it, and the adventure behind the image is often just as meaningful as the image itself. All artwork sized 18" x 30" and greater will have the story about the image mounted to the back of the artwork. The prices listed on the website includes this.



STILL NOT SURE WHICH PRINT STYLE TO CHOOSE?

I know it can be a tough decision! Rest assured I would not offer a print type that I wouldn't feel comfortable hanging on my own wall. The detail, clarity and contrast catch your attention regardless of the print type. The metal and museum-grade acrylic prints have more of a wow factor and 'pop' a bit more compared to the wood mounted prints due to their high gloss and shiny surfaces. On the other hand, the wood prints are not as glossy and therefore eliminate reflections better than the other options. Customers love the beveled edges on both the wood and acrylic prints, but the sleek profile and vibrant colors of the metal prints are also attractive. The museum-grade acrylics are the nicest, most upscale option but also come at a higher price.
It is also important to consider the lighting environment where your artwork will be displayed. Wood prints may fit better in a bright room with large windows relative to the metal and acrylic prints given their more matte like finish. Like other things in life, it comes down to tradeoffs! Lastly make sure to never place your art on a wall that receives direct sunlight. Even with the UV protection, sunlight contains infrared radiation which can damage and fade your print.
If you want to discuss all this over email or phone, please contact me so we can get in touch.
---
HOW TO PURCHASE
All artwork is purchased on the site by navigating to the photo galleries and then going to the specific photo page for the image you like most. Scroll down beneath the photo to see the different print options. Simply use the dropdown feature to select your desired print type and size and add it to your cart, and checkout securely using PayPal (you do not need to have a PayPal account). Once your order is placed, I begin working with the printing lab to get the production process underway.
Visa, MasterCard, American Express, Discover, and others can be used via Paypal's secure online credit card handling service. One can also choose to pay with a Visa or MasterCard debit card, or an existing PayPal balance or transfer money using PayPal's e-check service.
PayPal also offers two additional 'buy now, pay later' options: Pay in 4, which allows you to pay for purchases of $30-$1500 in 4 interest-free payments. You get a decision in seconds and there is no impact to your credit score. PayPal Credit allows you to pay over time and features no interest if you pay in full within 6 months on purchases of $99 or more.
If you would prefer to pay via a different method or have other questions, please send me an email and we'll explore alternatives.